We made it! James, John, and I have completed the first official Erck family marathon – and we had a lot of fun running it!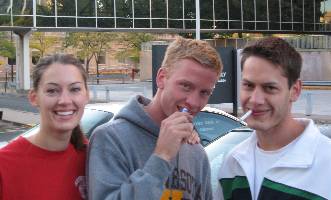 The weather on the day of the race was perfect – sunny and clear, temp in the 60s at the starting line and into the 80s at the finish. We met at Dad's apartment at 7:30am where James had his first cigarette of the day. John & his major case of bedhead looked around sleepily and said things like: What's a race number? Does anyone have any chapstick? Where's the starting line? They had obviously just rolled out of bed whereas I had gotten up 2 hours earlier to eat & digest breakfast, stretch, drink water, etc. I suppose that makes me a typical oldest child… Here's a picture of us at the beginning of the day.
The actual race itself was lots of fun up to mile 20. We all stuck together, chatted, laughed, and had a grand old time running our 10 minute miles. Right around 20 I started to feel like crap. This is where a series of long slow inclines began. This is also where the perfect weather transformed into a nasty hot beating sun. I felt like even more crap. At mile 22 I needed to slow down, so James stuck with me and John took off to finish the last 4 miles at his own pace. At mile 23 I could not believe I had 3.2 entire miles left to run. We walked a little extra through the water stop, then decided we each had to start running again at our own crippled pace in order to make it to the end. James needed to go a little faster than we'd been going, I needed to go a little slower. I felt like I was in a trance, running in slow-mo through jello. At mile 26 I saw Jamie and Dad cheering for me, but I did not feel like sparing the energy to acknowledge them.
And then I finished! We all found each other, took many celebratory pictures, and went home to sleep and eat for the rest of the day. Final times were: John 4:29, James 4:35, and Sarah 4:40.