Thursday, September 28th, 2006
This is completely unrelated to our upcoming travels, but it is too exciting to not write about!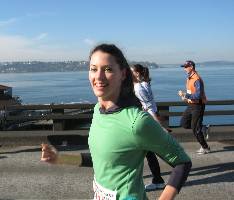 This weekend, October 1st, James, John, and I will run our first marathon – together! We will run the Twin Cities marathon, also known as The Most Beautiful Urban Marathon. 26.2 miles through the city and around Lake Calhoun, Lake Harriet, Lake Nokomis, along the Mississippi River, finishing right in front of the State Capitol.
I started training a few months ago and have been semi-diligent with my training plan – I have faithfully completed (almost) all of my weekend long runs, but I've been lazy about doing mid-week runs.  My longest long run was 19 miles, completed 3 weeks ago. And it was rough. During the last few miles my muscles & joints were so sore that it took an embarrassing amount of effort to pick them up and move them for the next step. I am hoping for lots of adrenaline during the marathon to keep me going. Alison or Dad, maybe I need one of you to hide somewhere around mile 21 so you can jump out and scare the crap out of me. That will help with the adrenaline, right?
James & John went with a totally different training plan. They did almost nothing. They do claim they ran 10 miles together, 3 months ago, but "it was so easy that we got bored and stopped running." hmmmm… They are counting on their youth and Viking heritage (John's exact words) to carry them through.
I'm not saying I want to see my brothers go through a lot of pain and suffering…but if they skip across the finish line I might have to kill them. Actually, if they carry me, while skipping along through the finish line, I will be OK with that.